Can running nothing but slow trail miles lead to a decent marathon performance? This was the question on my mind leading up to London. I would soon find out…
3rd Oct 2021 was a much deferred run. I'd won the place in the club ballot at the Christmas party in 2019 and was thrilled at the prospect of running in April 2020. That ended in the alternate 40th anniversary London Marathon going virtual in October 2020 – an absolutely torrid outing for my #10 of  12in12in2020.com challenge. 2020 really took its toll and so 2021 has all been about a slow, steady rebuild.
A rough plan
I'd been working towards the 30mile Dan's Beer Run (mid Sept) and London (3rd Oct) and, while I'd started doing some specific hill work and intervals, the running was really focused on just enjoying it. Progress was slow but with no big Spring challenge in the calendar there was no pressure. Each month has also been punctuated by Cally & my's adventure run of around 13miles which has only added to the running pleasure.
Strava's fitness  graph show's my steady decline in fitness in 2020, despite the monthly marathons, with a sharp rise after the August 100miler (algorithm probably wasn't expecting that). In general though I could see 2021 building nicely.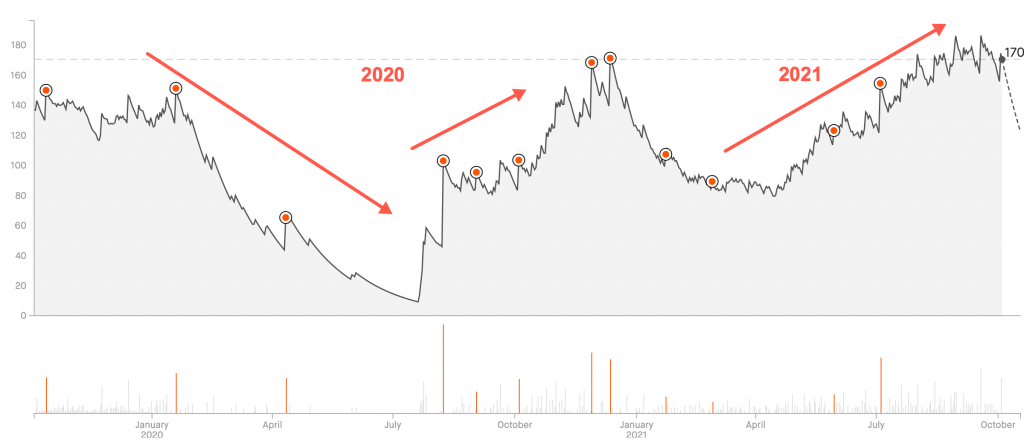 Some way out I figured I should probably have a formal training plan in place to keep me honest so I resurrected my https://runplan.taining app and used a Runner's World intermediate plan as a baseline. I probably averaged about 35-45 miles a week with a few larger (and smaller) weeks in there too. All-in-all it was a 600mile training block which felt pretty solid.

Overall I was feeling great and really managed to enjoy the 30mile beer run. I also had a good half marathon run in Cheltenham on 5th September – 1hr 46min – and this gave me some confidence for running a road race again.
Getting started
So, on to London. We were really lucky with the weather having race day sandwiched in between spells of wet, nasty weather. In the months leading up the the run my "plan A" was just to go out and soak it up, I'd allowed myself a really relaxed approach to the day. I wanted to try and fully grasp the incredible spectacle that is London – the relentless wall of sound generated by the spectators, the bands, the neighbourhoods and all of the iconic landmarks along the way. The main aim was to avoid having one of those awful runs which ends in a suffer-fest which eclipses anything to do with the occasion (I've had a few).
The thing is, I was actually feeling pretty strong in the week or two before the day. How could I miss the opportunity to have a go and maybe get a PB? So, I created a new plan A – go out in 8:30 min/mi (5:16 min/km) but run to feel – if that was too fast ease back to 9:00 min/mi (5:35 min/km). The strong half in Cheltenham had sown a seed. I felt I could pretty comfortably pull of 9 minute miles if need be. If plan A worked I should hit about 3hr 45min – 3hr 50min knocking 4 – 10 min off my PB. That would be amazing!
The event organisation was brilliant and this time I started from the Blue start area, accessed via Blackheath. Each group was broken into waves setting off 3min apart. I was in wave 6 setting off at 10:00. Each wave felt quite small, grouped by runners with similar pace ambitions. This led to a feeling of never being too congested which I remember as a feature of the 2016 run with the true 'mass start' – frequent stop/starts and lots of weaving around slower runners.
I set off with Paula Radcliffe's words in my head "in the first few miles, if you feel like you can't go any faster, you're already going too fast". It turned out that my comfortable pace was 8:04 – 8:12 min/mi (5:05 min/km). Wow! This was great. To put this in perspective, my average training pace was around 11:00min/mi (6:50 min/km). It felt good to be cruising at this pace and not overdoing it. In the back of my mind was always the niggle "can I hold this the whole way?" We would see…
Entering Greenwich town sees the volume go up several levels – it's one of the most amazing sections of the run. Banking around the Cutty Sark at around 6.5 miles is one the real iconic moments in the day. Still feeling strong, onwards…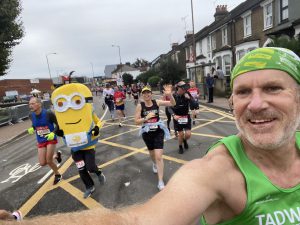 I think it was a short way before Greenwich that I noticed a Minion, yes, a Minion. My wake up alarm in the morning is the Virgin Radio breakfast show with Chris Evans – an avid runner – along with Vassos Alexander who has real creds as a runner. I loved his book Running up that Hill – his story of running the 153 mile Spartathlon race in Greece. On Friday morning the show was taking phone-ins from people doing the run with, as usual, incredible stories about personal loss and raising money for charities, really inspiring. One chap who was running dressed in a minion costume #maraminion with his mate called in. In conversation he said to Vassos "I've got a spare costume, do you fancy running in it?". Without missing a beat Vassos agreed – how cool is that. He had already committed to pacing Rachel Horne – a news presenter on the show – and now he would don the costume, no practice, 2 days before the event. As it turned out the Minion was Vassos and I managed to get a wave for a selfie as I went by. London is just cool.
The next key moment is arriving at Tower Bridge. It just sort of pops-up on you as you round a bend and signifies the rough halfway mark. Shortly after crossing over comes the true half way and I saw my time was about 1:48, wow, this was looking good! I'd run the Cheltenham half in 1:46. Maybe it was a bit too good?
It's also here that you see the head of the pack come storming past you going the other way, about 10miles (16km) ahead of you. It was around here that I managed to spot Dave Williams from TAC cruising home – he went on to an amazing 2:48 finish. These runners had 3miles to go while you have the full second half ahead. Reality check time. Still doing OK, hang tough and get ready to work.
The Grind
The stretch into the Docklands is notorious for being a bit of a dead zone. In previous years it was devoid of spectators and generally pretty soulless. It's also when you get to the 20mile point known know notoriously as "the wall". This year it seemed the spectators did not let up the whole way around and I was thrilled to see Jim Duffy just before the 20mile marker. It lifted the spirits to see a friendly face – I was in desperate need of a lift at this stage, the rot had set in.
It's a frustrating phenomenon. I actually still felt OK. Sure there were some aches in the hips and legs but not so much to warrant the pace drop. I'd been pretty careful with my fuelling  so the energy should have been there but I just could not hold the pace. Now I was losing 2 minutes per mile and the PB slipped away pretty quickly. Plan B – make sure to get in sub 4. Even the 10min/mi felt challenging.
At last I got back to the Tower Bridge overlap point. Now it was me at the 23 mile mark and I could see the other runners feeling how I did at half way. I really did feel for them as I was now also in my own deep struggle. 23 miles, 3.2 to go, just 5km, that's basically around my local block, just keep running.
Hitting embankment feels really good but it's kind of deceptive as you still have to get all the way to Big Ben and down the length of St James' Park before turning back down the Mall at Buckingham Palace. Still, what a list of landmarks to finish on!
Finishing
Finally you're there, you see the 600m sign just before turning onto the Mall. At least I could see the sub-4 was on. Now I could just enjoy the finish. WOW! What a race, what an event. I reckon London will be special every time I get to run it. I hope there are many more. 5 ballot failures say the odds are with me now. I feel like I'd like to come back and get it right.
Tom was also running. He'd started with the Red Start area and was having a tough day. To be fair – his focus had been an Ironman 70.3 a few weeks before. This was secondary and he still brought it home in 4:19 – a really good effort considering and a PB for his Abbot World Marathon majors (we have a plan to get all of these at some point). His true PB is around 3:53 – a minute or so faster than me.
It seems that there is something to learn every time. The deep irony is that you don't really know what you are capable of until you cross the finish line. That's the challenge. Calibrating your effort to maximise your performance before you're really sure what it is.
What's next
Tom Zooms me on Monday morning after the run. He's already sharing his screen, open on the registration page for Manchester Marathon in April 2022. After 10 minutes we were both signed up. Right. That's winter training sorted. I've also got the 100 mile South Downs Way in June. Cally, Vicky and Penny have also entered the ballot for London 2022 – how amazing will that be for all of us to share the day 🤞. So much to look forward to! What did I do before running?