The Idea
Hell of a thing this. Where to start?
Last year I was introduced to the idea of a beer run when Simon staged his looping run. This was 5x 10k laps where each lap comprised two 5k loops where you drink a beer at the start of each loop + at the end of the run for a total of 11 beers. The course was staged around a central point in a field near the Sportsman pub in Mogador. I used the run for #6 of my 12in12in2020.com challenge and it turned out to be just a brilliant day. Though I felt just fine afterwards Cally took one look at me and felt otherwise. Suffice it to say I'd had an induction to a beer run.
Dan was also there and charged home for a win ahead of John and Simon. Although this was never a race, things just got slightly competitive up front, can't imagine why with those 3 three 🙂 Throughout the day folks from TAC (our running club) dropped in for a few beers and/or a few loops. It ended up with just four of us doing the full 50 with me brining up the rear a good hour behind the other lads. I absolutely loved it.
So, when Dan mentioned he was looking at doing this again in 2021 I was immediately in. He had clearly been giving this some thought as he planned to make it a single loop starting and finishing at the Derby Arms on Epsom Downs taking in pubs along the way. Seemed like a reasonable variation on the theme. Little did I know…
Our first exchange on Whatsapp was at the end of July an went like this: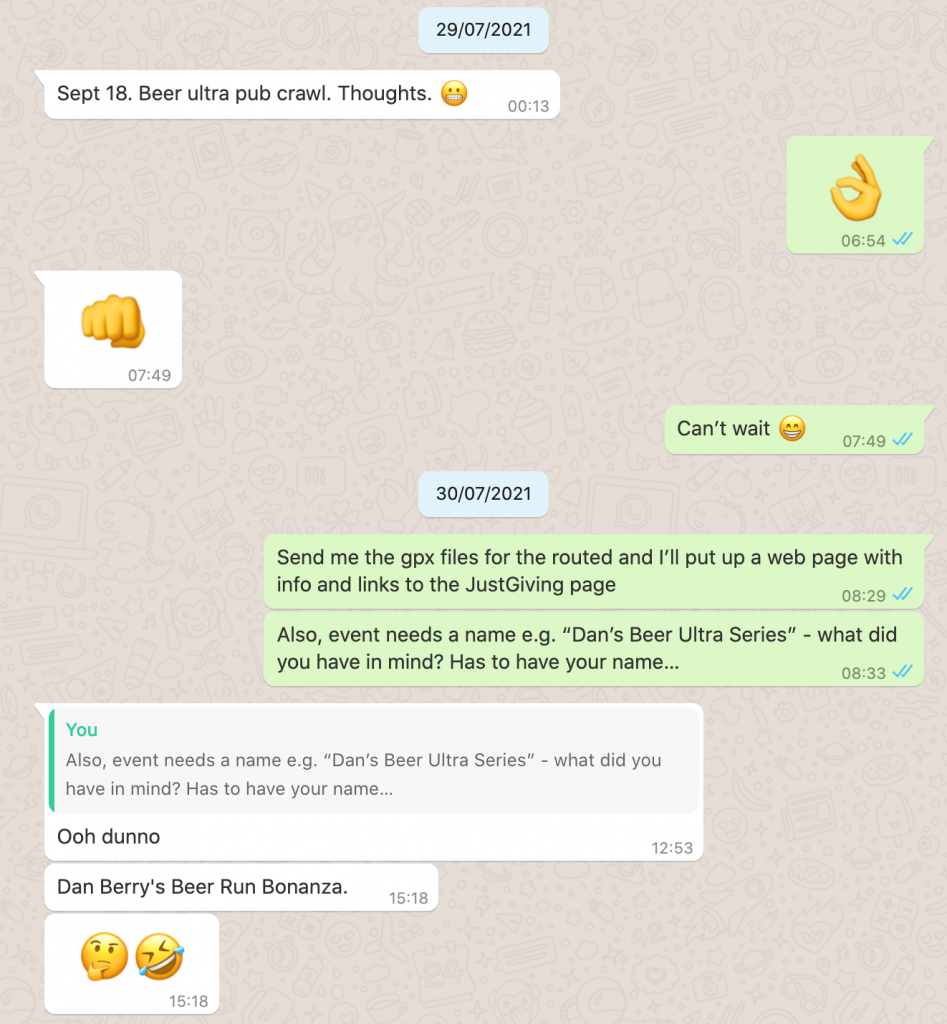 What followed was over 2000 Whatsapp exchanges ending up in an event with 106 participants comprising a 14.5km "Fun Run", 14.5km Walk, 25km "Half", 50km Bike (MTB/Gravel) and the 50km Ultra. Incredible.
From the start this was very personal to Dan and had the purpose of raising money for The Royal Marsden charity which has been providing support to Angelique, Dan's partner (soon to be wife, as of writing), after her cancer diagnosis in October 2020. The initial target was £1000 and Dan admitted that he would chip in if not enough was raised. The Virgin Money Giving page was launched on 05 August 2021…

5 days later…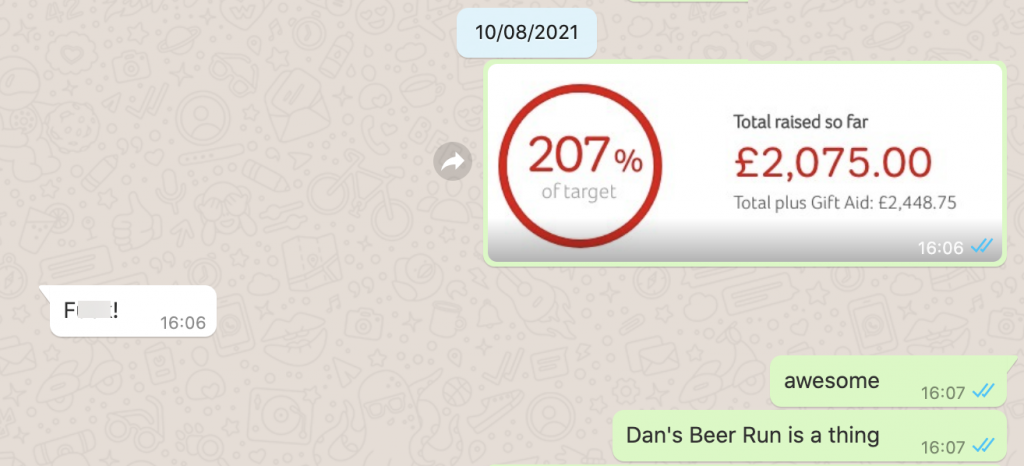 What followed was just inspiring and still gives me goose bumps when I think about it.
Interest grew quickly and soon there were walkers who were keen to participate along with mountain bikers and runners who wanted to join but just for shorter distances. Dan had the idea to suggest a nominal £1 per km run in the form of donations to the charity. 
As the sub-events were added so the donations grew. And, fantastically, so did donations from folks who were not participating at all. The event really captured the imagination of everyone who heard about it. He had to keep upping the target and it just kept getting surpassed. Everyone responded. 
Importantly, Dan's massive network of friends understood what he and Angelique were going through and everyone wanted to have a touch point with Angelique's fight and road to recovery. Humans can actually be pretty cool given the chance. A real buzz was growing.
Admin
With the growth in interest we had to start upping our game from an admin point of view. We added a registration page on the website so we could track participants. Suddenly we had to start thinking about health and safety and liability – it was no longer just a few mates out for a beer run. The 4 routes were on public land with multiple road crossings. Beer was involved. Would people get into trouble?
This became stressful, especially for Dan with the event bearing his name. We needed a liability waiver and probably insurance. Dan rang around for insurance – just imagine how that conversation went: "Yeah, around a hundred people, cycling and running, stopping at pubs for beer. 10 pubs for the 50k, fewer for the shorter distances. Yeah, public land with a fair few road crossings… CLICK, Hello? Hello?". No dice with insurance, we had to hope people would use some common sense and that the waiver would cover us.
We built route safety pages with warnings and sent detailed emails to participants. Lots of stress, lots of admin. In the end it was just fine and we learned a lot.
Some of the really fun bits were planning the route. It turns out that Dan & I are similar geeks when it come to this. Dan had a pretty good idea for all of the routes and had run all of or at least sections of them. The rest was down to drawing lines on the OS Maps app and heading out for reccies. We had regular exchanges, often well into the night, about various legs which would go something like this: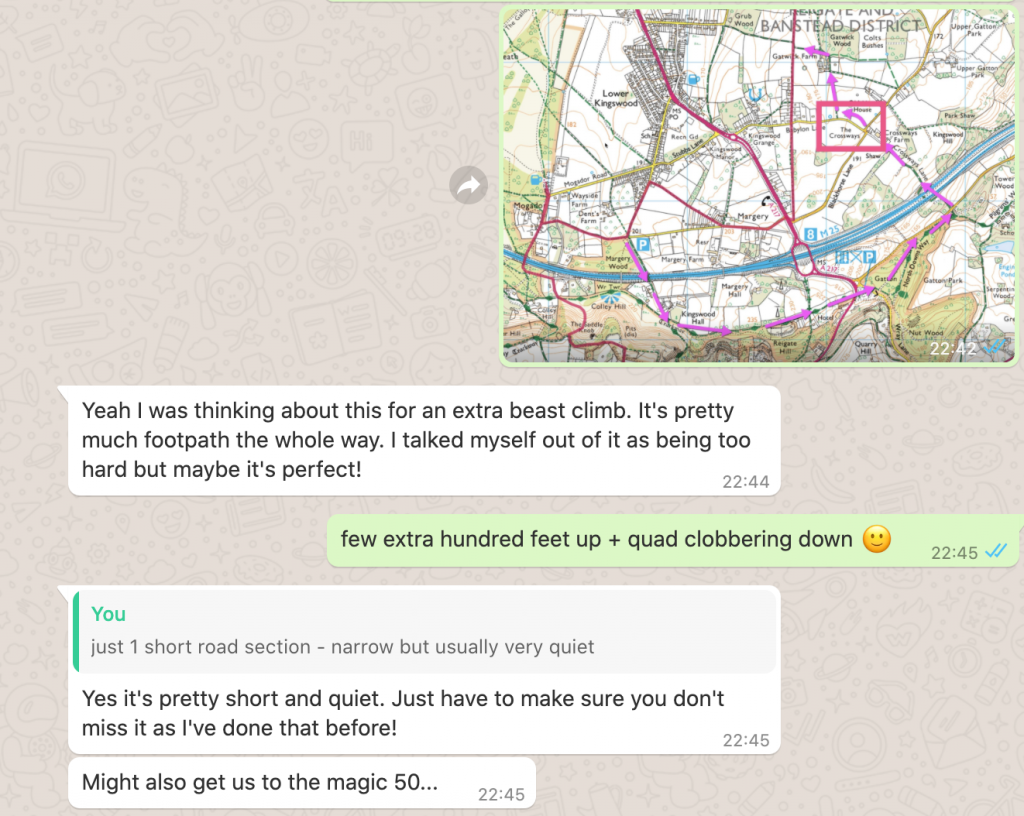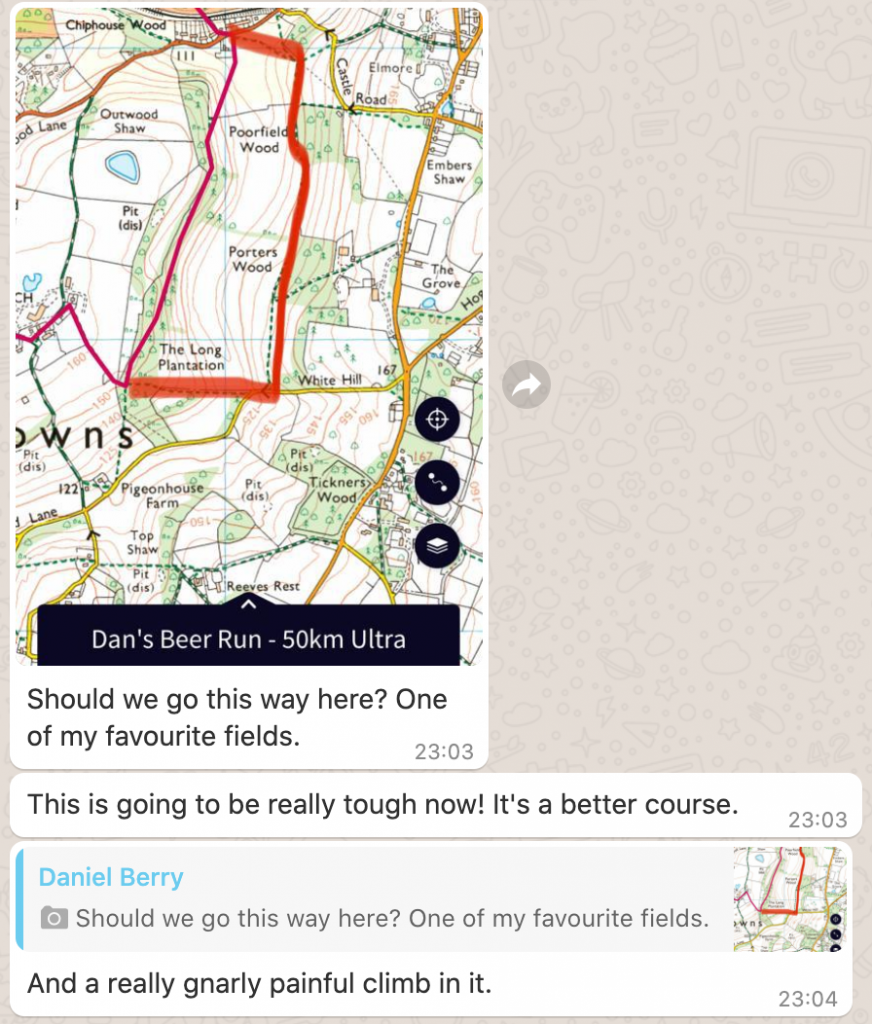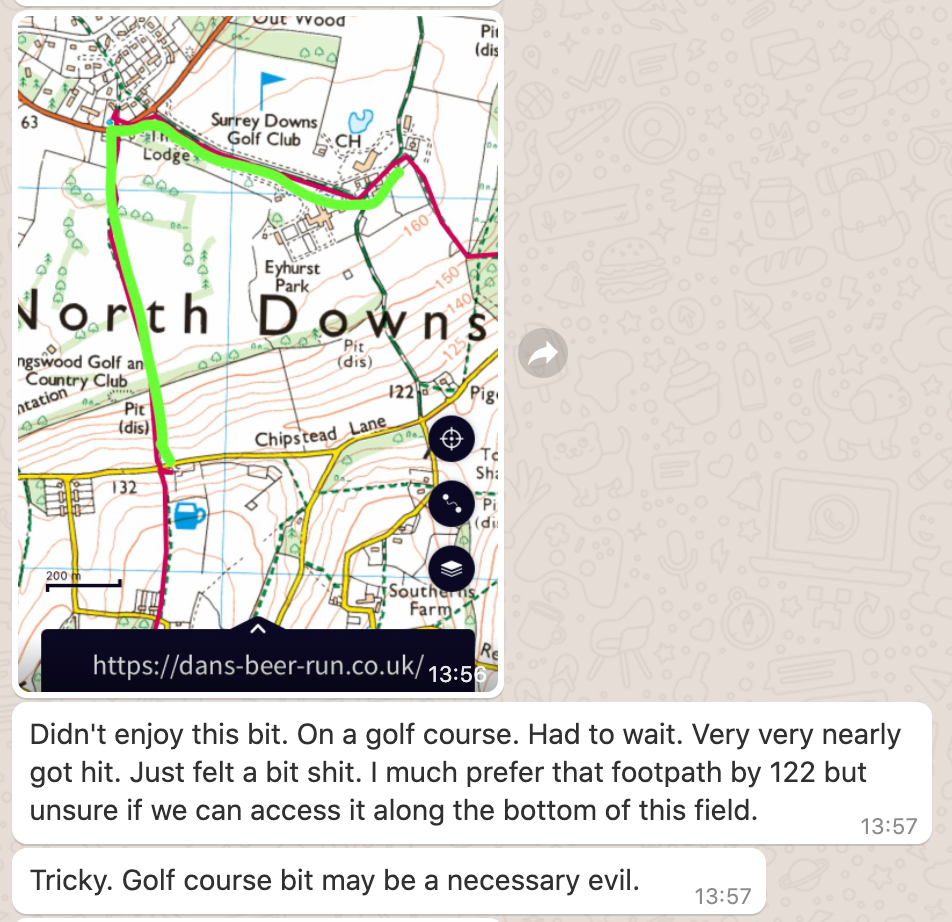 And so on…
We realised that with the extra groups we needed some run leaders who knew the area and could guide the way. Thankfully the amazing crew from TAC stepped in. It really must be one of the best clubs around, a huge thanks to Akshay, Ian, Jane, Simon, Hazel, Ingrid, Donna and Laura. Then there are the non-club supporters for MTB and walking – Mark, Dan G, John and Paul.
I even took Cally out for a recce – she ran the 14.5k fun run – so she would know the route if needed. I took some pics at key route changes and Dan turned it into course notes: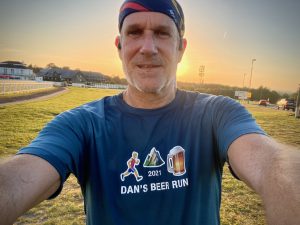 We also got shirts made up to commemorate the event – what's a run without a shirt? This one feels pretty special though and I wear mine with great pride.
Anyway, you get the idea, there was a lot of prep but at the same time it felt worthwhile. This had the makings of something special.
The Run (50k/30mi)
Something struck me at some point – the shape of the course was reminiscent of a knight on a rearing horse – make of that what you will.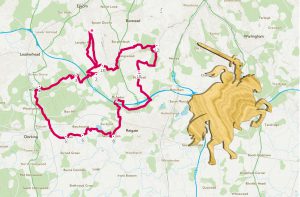 Eventually it was time to set off and leave behind all of the prep. This was what it was about. Time to run. Yes!!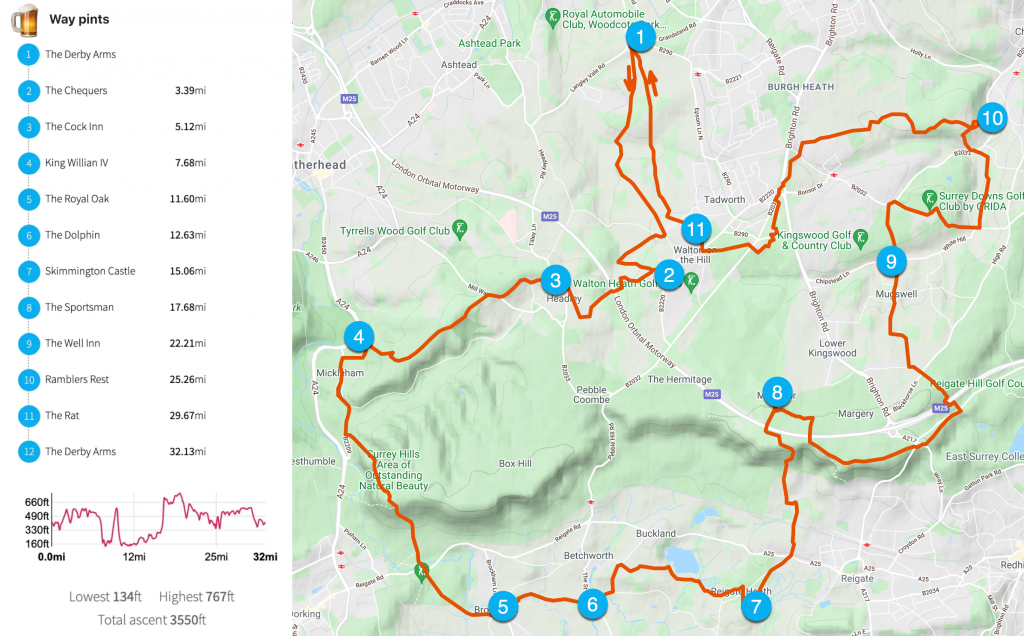 We gathered in the Derby Arms car park from around 10:00 for the 10:30 start. Fortunately the pub opened early on Saturday and we could get our first round in. Our 50k group had 12 starters of which 7 were first-timers to an ultra distance.
The original idea was to have 2 groups (fast and slow) where Dan would lead the fast and I the slow. As the numbers grew we decided to just all start together and let runners group naturally into pace groups with me still bringing up the rear.
It turned out to be just a beautiful day and we headed out over Epsom downs under warm, sunny skies. The smile was already painted on my face and did not leave all day.
The first two pubs actually came up pretty quickly and we all ended up gathering for the first drinks. Even the King Billy (3rd pub) saw us all together.
We separated after that as the run got underway in earnest. I was running with Lawrence initially and we picked up Mick and Marcio after the King Billy. Ingrid caught us as we headed out of Merstham.
It turns out Mick and Marcio are old mates from Aruba of all places! If you take a close look at their shirts you will see "Aruba Malmok Runners" – a local club. Marcio has some pace on him and while he's never actually completed an official marathon event he has gone the distance in training and he just looked comfortable all day, he has a great natural style. Mick knows his way around too and has a 3:30 marathon under his belt!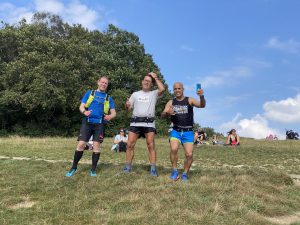 Next up was the challenging ridge up Box Hill, one of the tough uphills. I was pleased to have the legs to run all the way up and bumped into Gareth at the top. His knee was paining him and, on hearing about his surgery and litany of injuries, I was amazed that he was running at all! Dan dropped back to run with him and when we got to the Box Hill viewing site they were off, bombing down the hill into the undergrowth at the bottom designating the actual path. I heard a yell from Dan from the bushes and we were off.
The four of us settled into a good rhythm and were enjoying the day. #5 The Royal Oak, #6 Dolphin and #7 Skimming Castle came by in fairly quick succession. It's a great way to break up a long run – all you have to focus on is the next pub which will be 3-5 miles away.
A couple of miles after Skimmington Castle came "hands on knees hill". The name gives you an idea. This devil has a 50%+ average gradient and comes around 17miles into the run. The view from the top is amazing – it's just getting there.
Sadly Mick had taken real strain getting up. His back went and he was cramping badly and, sensibly, opted to bow out. It was a real shame to see him go as he had been great company. As I was about half way up my phone ran. Dan. "Hi mate, you going up hands on knees?" Yeah, thanks for calling me while I literally cannot breathe 🙂 He was at #8 The Sportsman with Gareth who was taking real strain. We would pick him up there.
We were now into the home stretch but with plenty of challenges still to come. The four of us were providing mutual support as the day drew on. Down Gatton bottom, up the other side, down Babylon lane, across the fields, #9 The Well Inn. Refresh. Up, down, up, down, up down (thanks Dan), #10 Ramblers Rest. Refresh.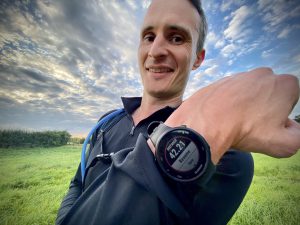 We thought it might get tricky at Ramblers as a couple in front of us were all but turned away for not booking. They just wanted a drink and the place was virtually empty! As soon as I said "Beer run" he was all "Oh beer run? this way sir" – nice touch for ringing round Dan 👍
The exit from Ramblers is a short sharp uphill and the route then skirts Banstead Woods. Gareth was keeping one eye on the distance as he was approaching his first ever marathon. He gave me a shout in a field next to the woods as the 42.2km clocked over and I captured the moment. How cool to share the milestone with him. While it might not have had the razzmatazz of a big city marathon, a marathon always counts – the distance is its own unique challenge.
We were not done yet though – still ahead was the long stretch to #11 The Rat. Mercifully this was pretty flat and once there we figured to just keep going. It was the only pub we skipped as it was getting dark and we were later than initially anticipated. Down Ebbisham lane, up the convex, over the  downs and done!
Dan had set the Strava segment for the convex as a challenge – fastest gets a prize. While I was under no illusions about winning it's nice to push yourself and see how you do. We collectively agreed that the convex could %@*k right off – legs were just not up for it at that stage 😂
I'd met Lawrence a month or so before the event. It turns out our fathers live in the same retirement village in Cape Town and brokered an intro. He's been racking up road miles this year and I invited him out on a 20mile recce for the Beer Run. It was more or less his first trail outing and, while challenging, I think he enjoyed the change of scenery. He was game for the Beer Run, good lad! It was his first ultra and an extra challenge in the heat. Come half way he was really taking strain and even considered dropping at The Sportsman. It's a real credit to his tenacity that he kept pressing on. There is generally at least one moment in an ultra where you have to dig deep – it's what makes it worthwhile.
What a day. We approached the Derby Arms as the sky was darkening and it was great to be clapped home by everyone on the lawn out front – well done chaps, we got it done.
The other events
One aspect of the multiple distances with staggered start times – aimed at finishing roughly together at 6pm – was that I did not get to experience the other events. The pictures, however, tell the tale and I got to hear the stories in the Derby Arms afterwards where there was a great gathering.
The gallery on Dan's Beer Run website has a great collection of memories from the day and is really worth a look.
On reflection
This was a treat to participate in. Dan has a knack for drawing people in and this event is a testament to his character. 106 participants with countless more donating. Wow.
There is something special about the simple act of running in a group. There is probably something primal which you can trace back to our caveman days. Something hard-wired into the brain. The joy of running gets multiplied – it's hard to explain but you know it if you've been there.
Most importantly came this:
No words required. Incredible.
I just can't imagine not doing this next year. I'm already looking forward to it. We will take a few lessons with us and aim to smooth a few things out but the spirit of the occasion – that's a keeper. More please.