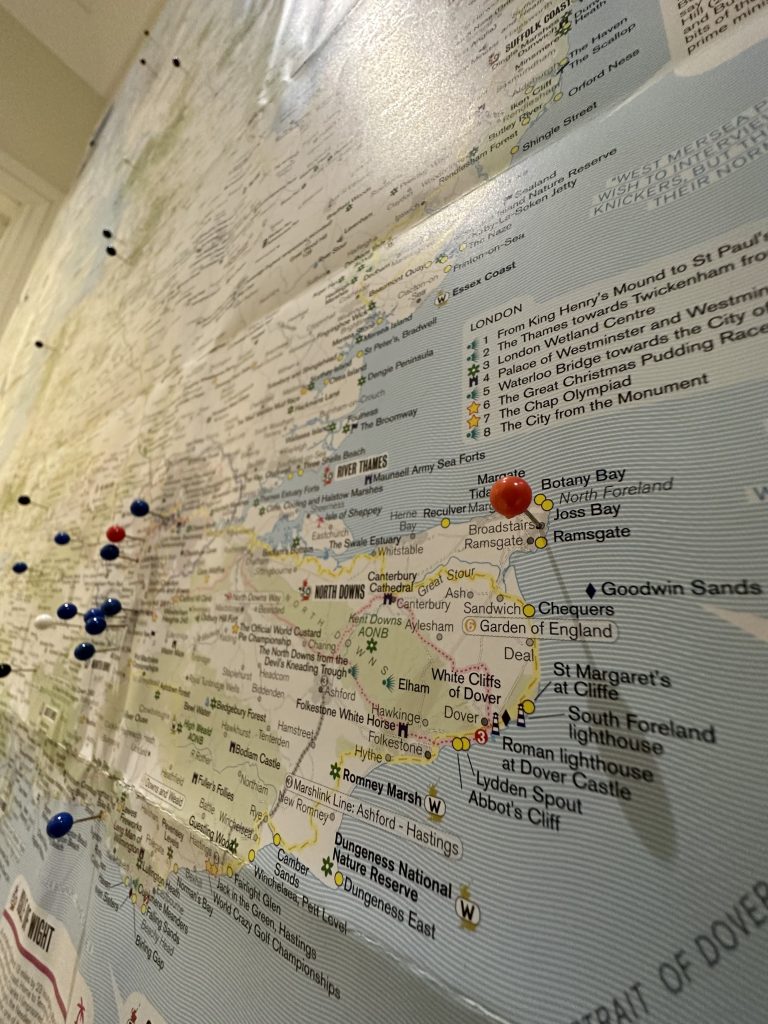 This one was a bit rushed in the planning. Having recently got our adventure map I was keen to aim for a "four corners" set of runs. We had just finished our Friday run the week before and, sitting with our coffee at Junction 8, we just decided on Broadstairs as a destination – the South Eastern corner. 10 min later we had a hotel booked and figured we'd find the run later…
As the weekend approached I started looking for routes thinking that a white cliffs coastal path would be great. Unfortunately Cally had picked up a cold over the previous weekend and it wasn't going anywhere and her nasty, fruity cough made it unlikely that she'd be able to do anywhere near the planned half marathon distance. So, I settled on a route from Deal to Broadstairs (about 16mi/26km) with a plan for Cally to join at Ramsgate for the (2.5mi/4km) final stretch (in the end she did 5mi/9km!).
I set off from the Hotel to catch the 07:56 train from Broadstairs to Deal. This allowed me to start at about 8:30 – timed to meet Cally in Ramsgate for a coffee/beer before the final leg. The first stretch went due North along the (very exposed) coastal path into a strong and freezing headwind. It was a cold 3°C and the windchill brought that down to -2!! The howling wind drowned out all sound and I could not even hear my music – this was not what I'd planned at all! The only bonus to Cally being ill was that she did not have to suffer through this bit.
After 5miles I turned inland across the most insane looking golf course to cross the river Stour at Sandwich. This was a pleasant break as the change of direction and landscape allowed some shelter from the wind. Unfortunately this was quickly traded for a very dull stretch along the motorway into Ramsgate – there was no access to the coastal trail for quite a long stretch. The takeaway was to put a bit more focus on the route for future runs. In truth, I'd probably have done this route anyway as there are just not too many options along this stretch.
It was great to at last get into Ramsgate. I was completely knackered. Way beyond the 13mi/20km it had taken me to get there. I met Cally and we stopped for a coffee before heading off. She'd done really well to even make to her start point as she was still poorly. The stop was a welcome refresher and the sun had come out to add a little warmth to the chilly day.
It was a really picturesque finish and we found a really nice, cosy pub on the beach at Broadstairs for an excellent finish.
A bonus to the weekend was discovered on the Saturday after the run. We went to the Turner Contemporary gallery only to discover an Anthony Gormley installation (https://turnercontemporary.org/whats-on/another-time/). Unfortunately the tide was in so it could not be seen. No problem, we mad a plan to return for a run the following morning. I just love the "Another Time" figures and have seen them in a few contexts. This one was great.