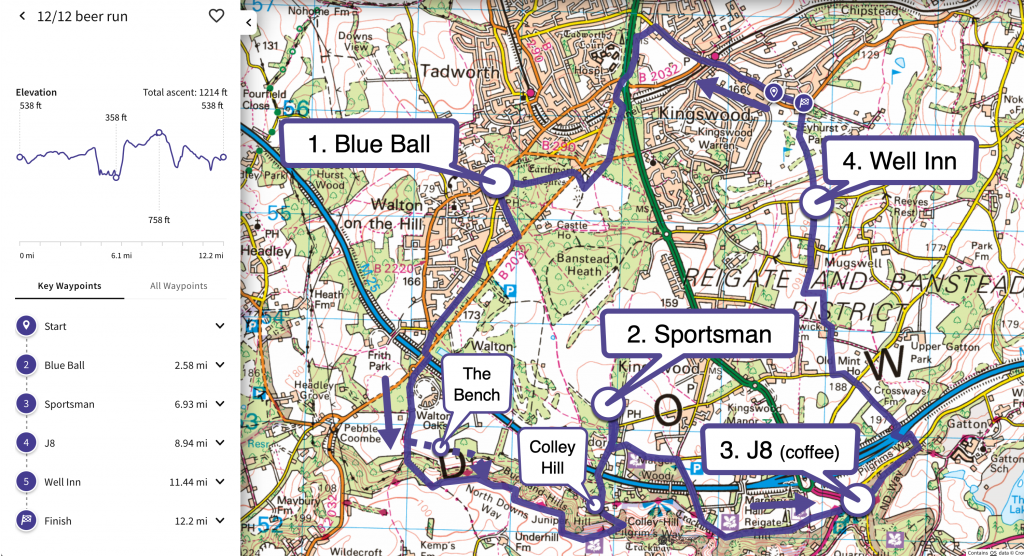 Hot on the heels of our 11/12 in Boulder came this the final, very local, outing for the year. We quickly opted not to look for a weekend away and get the run in before Christmas frivolity got in the way.
With beer runs a firm fixture of late it seemed appropriate to finish the year in a slightly more relaxed mode.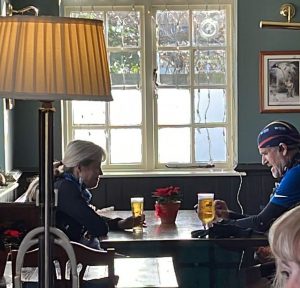 The route was our first to start and finish from home taking in 3 pubs and a coffee stop. While slightly short of the general aim of a half marathon (13.1 mi / 21km), the 11.5mi/18.5km route did include Colley Hill and a reasonable amount of up/down to justify the boozing.
We started a bit later than usual to allow for the pubs to open (obvs) and had a nice comfortable run to the Blue Ball in Walton-on-the-Hill. Despite the 11am hour we bumped into one of the lads from my running club who decided to 'shame' us to the club Whatsapp group. To be fair to him he was having a coffee (thanks Dave!)
The Bench
The real work started as we made our way onto the North Downs Way(NDW). This route has been a wonderful part of our running for the past few years and, given that our first outing was a very tough out-and-back on the NDW to Box Hill, it seemed appropriate to get it into our final run. This section was slightly delayed by a detour to "The Bench".  Dan (another mate from my running club and of course Dan's Beer Run) had spotted the earlier post and sent a pic of his morning run via The Bench, we just had to make a detour.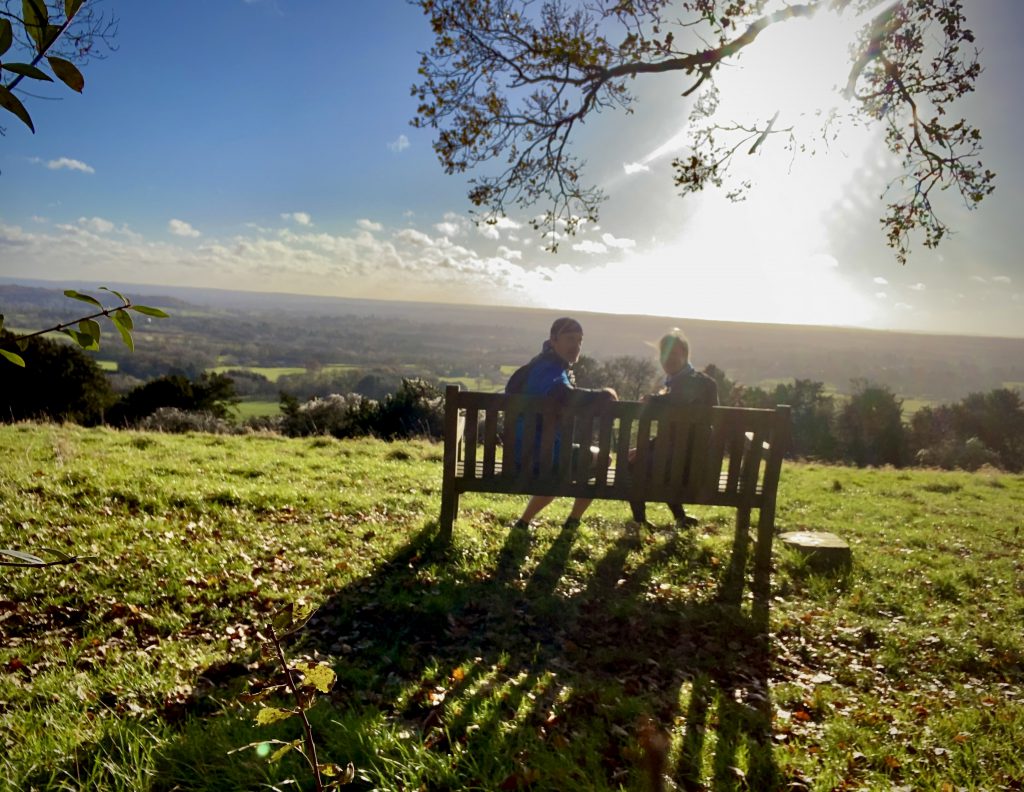 Some other moments at The Bench from other runs:
There are of course many benches dotted around many locations in the local and national area and they are a great way to commemorate loved ones and are often to be found along the trails. There is, however, only one "The Bench".
The Bench is – by agreement among at least 3 people 🙂 – probably the best located with best views of any in a pretty wide local area. It is a place to stop and take a moment. It fits perfectly with the ethos of trail running and was a great find after Dan and Warren regularly posted bench pics on Strava. I was none the wiser for ages until I finally discovered the location. Cally & I used to often run right passed it on a more common, and frustratingly angled, path across the field in front. The Bench is a thing.
There seems to be sort of an etiquette associated with the bench (I think):
You should probably visit the bench as often as you can.
If nearby you really should make a stop at the bench.
Take a moment and share a pic while at the bench.
As you can see these are really just suggestions. Your bench experience would up to you to craft.
Colley Hill
After The Bench we plunged down to the NDW for a lovely but muddy section knowing all the while that Colley was coming. At some point in my training I decided to just embrace Colley Hill. In general I look for hills in my training runs as opposed to avoiding them. I've been burned in some long ones by being underprepared for going both up and down and so I just figure more hills are better. There are actually not that many really challenging hills around but Colley Hill is a pretty good one and is a good benchmark of one's hill form on any given day.
– the pics are very deceptive, its much steeper than it looks 🙂
Strava has a feature which allocates "local legend" status to the person who has completed a segment the most times in the previous 90 days. While my PR of 3:58 is a long way off the men's record of 2:39, I try and maintain this one as 'my' segment in terms of getting it done.
As you might imagine Cally does not necessarily share the same goals and is never best pleased to be 'dragged' up Colley but to be fair, she always gets it done and will reluctantly admit that the hill work stands her in good stead.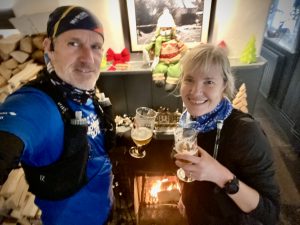 The reward for getting to the top of Colley is the short hop to the Sportsman. After initially sitting outside we found things a bit chilly and moved inside to enjoy the quiet and toasty fireside.
After the Sportsman was a short stint along the NDW to the J8 coffee stop. This, too, is a regular part of our running schedule and seemed fitting to make part of the final run. From J8 is was another plunge, down Gatton Bottom and back up under the M25 as we headed along the 2.4 miles to our final stop at the Well Inn pub.
The Well offered another cosy fire. From there it's less that 1 mile home across the Kingswood Golf Club fairways. It was a great way to finish the year.
The Last Word – by Cally
The last race of the year – and how quickly the year has suddenly gone. I was very apprehensive about committing to a half marathon a month at the beginning of this year but Paul said if I do not make a running goal for the year I will not do anything and so a year of amazing monthly runs began.
Some of the runs have been more challenging than others including a few injuries on the way but I have loved every minute of it and of course having Paul as my guide and my support team it has been a year I will never forget.
It has given us the opportunity to get away on weekends and discover new and beautiful places to run in the English countryside. The final run we decided to keep local with a few beer stops in-between – I have found that the runs have not got much easier and I still find it hard work but I have loved the challenge, being out in the countryside and of course sharing the experience with Paul – What does 2022 hold… I will keep running x
Wrapping up 2021
I'd say the year has over-delivered on expectations. We set out to do a run per month which had some challenge. Some adventure. We were constrained by COVID but also used that to look for UK based weekends away which have turned out to be a brilliant format.
Along the way we ran together, trained together and spent loads of time together just being outdoors. This is a good thing and not to be underestimated. It's a joy for me that Cally has found both challenge and pleasure in running and we are already working on 2022. I'm sure there will be loads more to follow.
In total, 2021 was a big level-up for Cally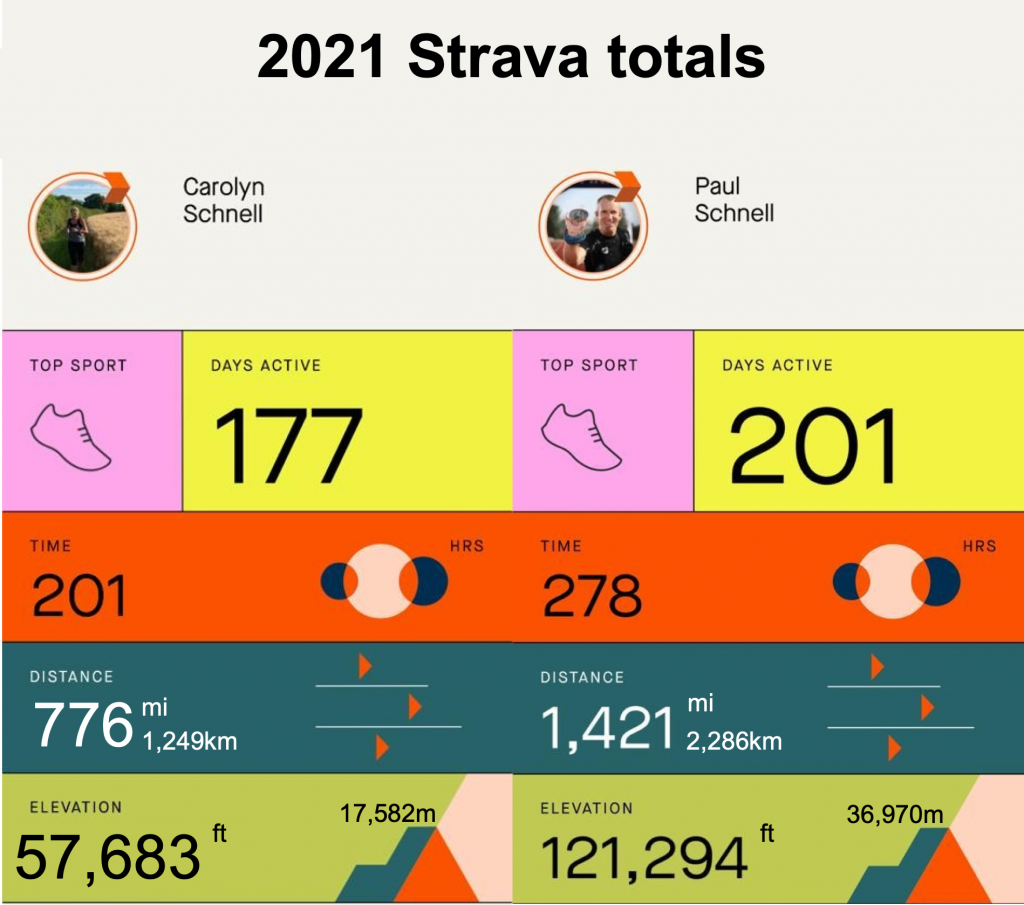 More telling are previous years. My numbers might be larger but I've slacked off since my 365 streak in 2019. Cally has been building nicely!
| Year | Cally | Paul |
| --- | --- | --- |
| 2021 | 776mi (1249km) | 1421mi (2286km) |
| 2020 | 295mi (475km) | 1501mi (2415km) |
| 2019 | 240mi (386km) | 2069mi (3329km) |