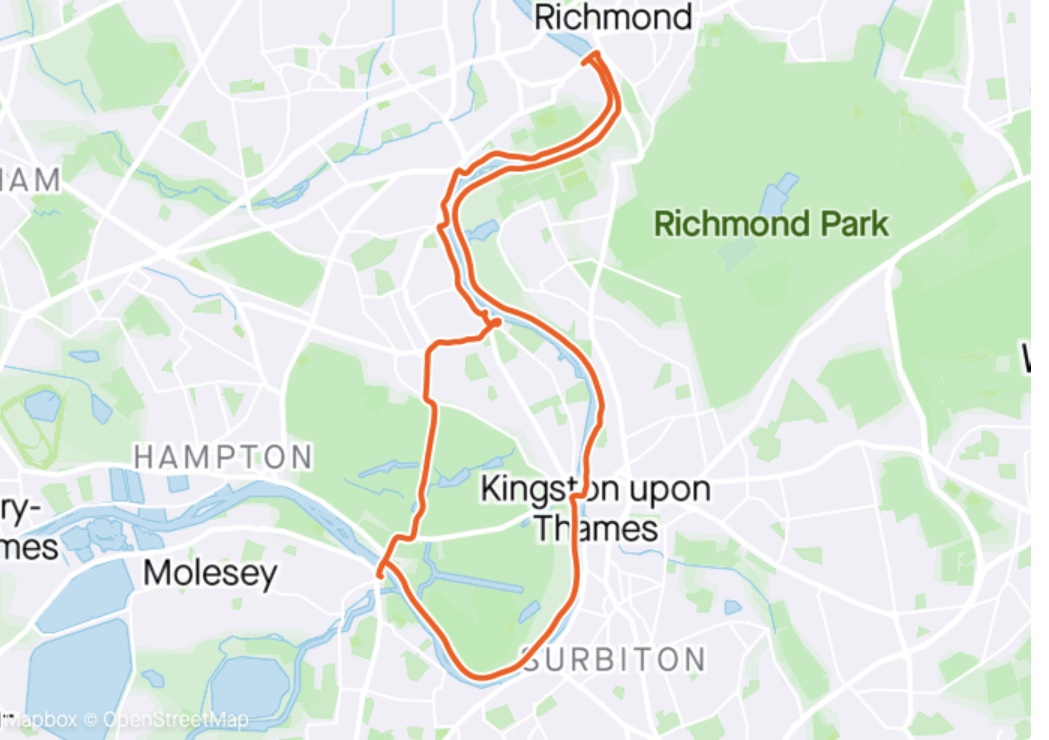 The diary seemed to be pretty stacked in August so we decided to keep it local and simple. I've had a few outings on the Thames path and was keen to go with Cally at some point – this was the ideal opportunity.
Hampton Court makes for a good start/finish with parking at the station and cafes and pubs for whatever refreshments we might be up for at the end.
The route took us from Hampton Court Palace along the North bank to Kingston bridge – a section popular with runners and cyclists.
The weather was perfect with sunny spells and a cooling breeze and we settled into an easy rhythm.
After crossing the river at Kingston we headed North towards Richmond. What I had not realised was that, in addition to the Bushy Park Parkrun, there was a Kingston Parkrun and it was just about to start. I'd deliberately avoided Bushy Park but given that the Thames Path was pretty much the only route we were set to tangle with it.
Sure enough a short while after 9am the first runners flew by. Then, surprisingly, someone called my name – it was Paul O'Connell one of my running club's fastest runners. He was on a mission. Hot on his heels were Dave and Simon another two quick lads from TAC.
It was starting to get a bit crowed with runners at this stage but fortunately the Parkrun course veered away and we returned to tranquility.
We passed a big central island at Teddington and I pointed out the planned return pub stop on the other side of the river. Something to look forward to.
Around the next bend and the view opened up to Richmond. A hill rises to the right with Richmond park over the top and the town nestled along the river bank.
Just after crossing back over Richmond bridge we found our coffee stop – an integral part of our runs. This was a sidewalk cafe and a welcome break.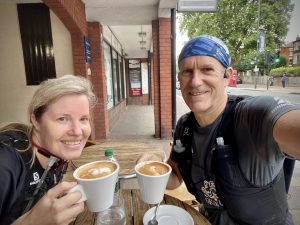 Recharged after the break we started the return journey. There was a beautiful tree lined section to start us off and before we knew it we were at the pub.
This was an excellent find as they opened early and could serve us a much needed beer. It may seem weird drinking beer at 10:30 in the morning but after (or even during) a long run there is nothing more refreshing.
The finish was a short hop across Bushy Park from the North – now clear of the Parkrun crowd. Bushy is the original Parkrun and can attract thousands each Saturday morning – it's a phenomenal institution.
With the run run completed, we changed at the car and made our way back to a pub on Hampton Court bridge for a final refreshment.