This one just sort of popped into the calendar. A month or two back Tom mentioned he was running this. I asked Cally if she was keen and received a non-negative response so I jumped on it and signed us up.
While we gave done several runs together at half marathon distance or more, Cally had never run in an officially organised event. There's no avoiding the butterflies – lining up with other runners generates anticipation and buzz.
I can clearly recall my first half. I ran with Andrew, my brother-in-law. It was the Nottingham Half. I don't recall the year or my time but I do recall the nerves on the night before. That feeling of anticipation to go further (and hopefully faster) than you've ever been before.
I could see Cally go through the same emotions and it was great to share it with her.
We were lucky to have a clear, warm morning – the first in a while. The start was set for 08:30 and we arrived in plenty of time to avoid loo queues and could take a moment to bask in the sun.
There were several start groups based on expected finish time and as we walked passed the sub-1:40, sub-1:50 then sub-2:15 we realised we would be at the back with the sub-3:00 runners. No problem we had our own plan.
Cally felt that she might be able to stretch to 2:45 and I persuaded her to agree to a pace for 2:40. What I did not tell her was that I had planned on a pace for a sub 2:30 – I knew she was good for it even if she didn't 🙂
We set off nice and easy. Starting from the back removed any pace pressure from surrounding runners and we got into a good rhythm. Keeping one eye on my faster planned pace and Cally's form I could see that she was comfortable, the game was on.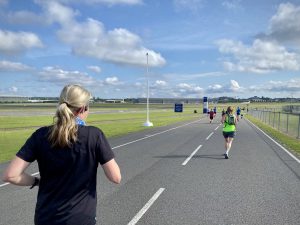 The route circumnavigated Farnborough airport on gently undulating closed roads. It was great to be back on a flat surface after running nothing but trails for the past year. Sometimes it's just nice to have the terrain on your side.
The miles ticked over and before we knew it we were at 10km and it looked like it might even be a PB for 10k (turned out it was her 2nd fastest). This was looking good.
Come 8, 9 and 10 and the going definitely got tougher. While sore feet and fatigue set in Cally just kept pushing – no walking like many others in the back group.
I could see the 2:30 would be marginal but do-able. I did not want to tip my hand too early but as we approached 12 miles I let Cally know that it was on but we needed a last push.
Wow, she responded. The last mile was the fastest of the entire run and we crossed the line in 2:29:13. So good to enjoy a finish with cheering spectators knowing you'd given your best. I was so proud.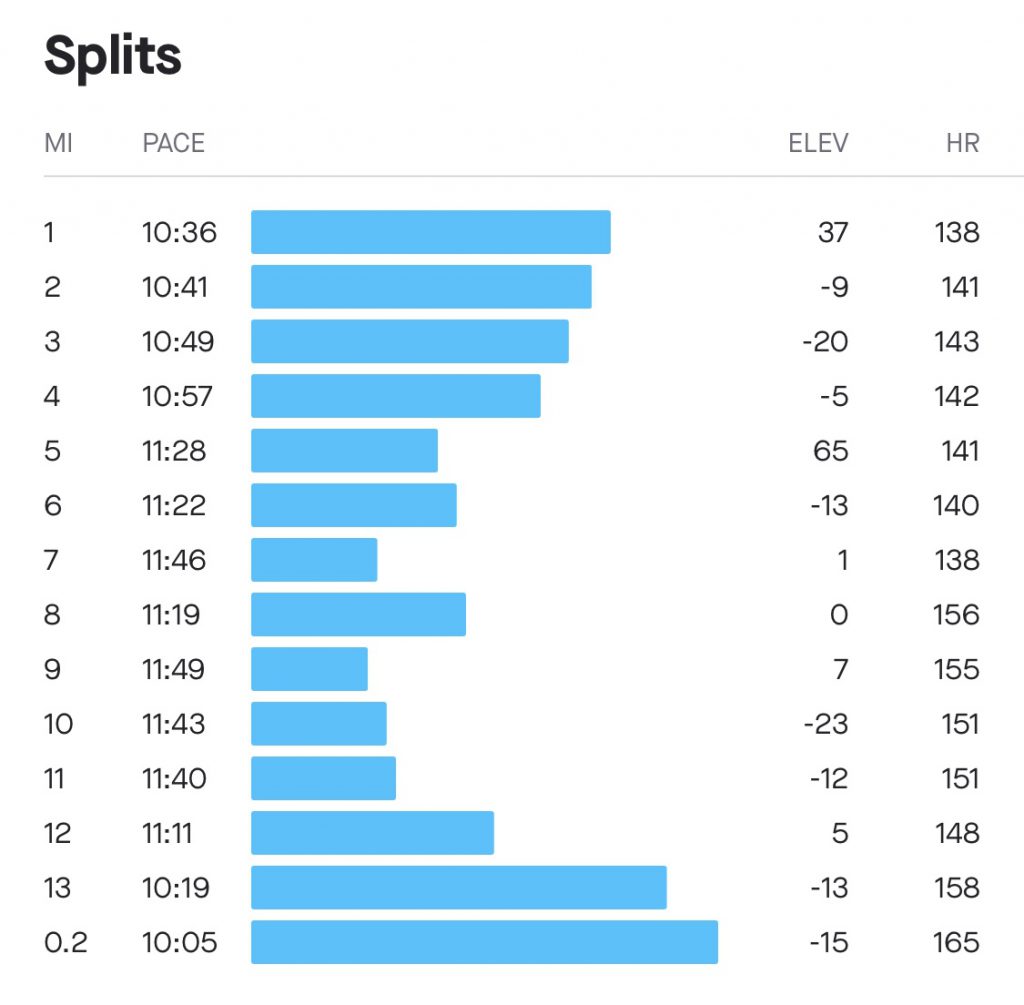 After running for a while you get to look back on your firsts: first 5k, first 10k, first half. They are treasured milestones and it's a surprise to see the contrast with your former self who would be gasping for air after those early trips around the block.
It seems that there is always a new challenge, who knows what might be next…