A surprise entry
Three weeks before the race I received a "Dear runners" email. Wait what!? I'd forgotten that entries from last year's cancelled race were automatically forwarded to this year and had put it completely out of mind.
In 2020 I'd run this solo for my 12in12 July run. It is about as local as you can get for me. The North Dows Way (NDW) is a fantastic trail which runs from Farnham to Dover over 152miles (246km) passing West to East though the Surrey and Kent downs.
The route

The marathon comprises two "out and back" legs from Reigate Hill to Box Hill. The varied route is made up of pathways through undergrowth, forested sections and narrow pebbly trails. It can vary quite a bit underfoot depending on the weather. In Summer things are usually hard packed and pretty good going. In Winter it turns into a sludge fest.
This has been a particularly wet Spring / early Summer and the days leading up to the race were no exception. Fortunately I'd decided to use my most nobbly trail shoes – oh how I needed them. The soft sections were just sludge and the more hard packed bits were a slip-slide. The pebbly bits were treacherously slippery too.
The race organiser had warned that for those who were new to the route they should add 1 – 1.5 hours to their road marathon times. This was due not only to the slippery, muddy conditions but also the 4000ft of elevation. It's hilly, very hilly.
With all of the challenging terrain it is still a really lovely section of the NDW and I'm lucky to have this in my back yard.
The run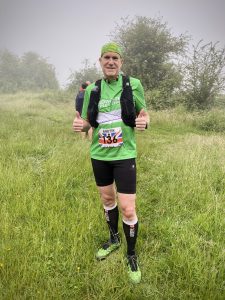 Rolling starts have become the new norm with COVID events with chip timing governing the final positions. We were able to get away a bit earlier than the 9am planned start and it was great to minimise the "hanging around".
The weather was a mixed bag of misty, cloudy, rainy and sunny spells but warm enough to not have to worry about layers. Wet is wet.
While I'd not had enough time to a focused training block for this run I'd been steadily rebuilding my base and gradually upping my weekly mileage. The 12in12 had really taken its toll on me in a way I'd not anticipated and the first 6 months of 2021 have been a slow, gradual recovery building towards my only planned marathon this year – the postponed London Marathon in October.
With the time I had I added some longer runs and hills. On the day I went out steady but relaxed anticipating a tough second leg. I was not sure just how my body would hold out but I wanted to test it a little bit aiming to beat my 2020 time of 6:12:03.
The second half
At the turn around I was at 2 hours 30 min which, when doubled, would give me 5 hours. I knew there was no way I could maintain the same pace but hoped I could get in around 5:30 – 5:45. I was starting to struggle at the end of the first leg which has the notorious Colley Hill within 2 miles of its finish. Colley hill rises 300ft at an average gradient of 20%. My PR is 4:07 but in the race (having to do it twice) my times were 7:18 and 9:04 further illustrating the drop-off in the second half.
For a brief moment I considered dropping at half way knowing what was coming but having signed up for the full there was only one way to get to the end.
There was a full and half race at the event with around 300+ runners listed to start. I thought that the traffic on the narrow paths would be an issue but in truth it was fine. Given the out and back route there was a lot of passing familiar faces and one could get a rough sense of where you were. There was a great atmosphere and lots of mutual encouragement from passing runners and folks just out for a walk.
It was inspiring to see the guys and girls out front come flying by seemingly unaffected by the conditions. Into the second half things thinned out as the half-marathon runners had finished. Much of this leg was spent on my own.
I could feel the pace dropping and there was plenty of walking. My legs were really feeling it and a few twitchy cramps were setting in despite the electrolytes and salt which I was taking on board. Quite a few runners passed me in the final stages and it was all I could do to just keep trudging along.
It was great to at last see the finish line knowing I'd chalked up another one. The finish is its own reward.
Take aways
I recall thinking "why?" and "I'm done with marathons now". I said to Carolyn at the finish "please don't let me sign up for another 100 miler. Ever!" – she laughed having heard this talk many times before. There is something about a marathon distance which makes it just out of comfortable reach. I've had many comfortable 16 and 20 mile runs but step over 20 in race conditions and you find yourself in the hurt zone. It's both tantalising and frustrating and as much as I feel like I really don't want to go through it again I feel like if I just prepared a bit better or ran a bit smarter I could do better with less drama.
There was a chap with whom I traded places for much of the way (he dropped me after about three quarters) who had run over 500 marathons. 500!! There must be a way. 12 marathons in 12 months, it turns out, was not the way for me. I thought the regular outings would acclimatise me but in truth my fitness dropped over the course of the year. Fitness, it turns out, is the paramount requirement (big surprise).
I've really enjoyed my running in 2021 without race pressures. I think having a few races in the calendar helps to keep motivation up though. Despite the above I am considering the South Downs Way 100miler for next year. Runner's amnesia is very powerful. I think my evolving relationship with running is leading me towards keeping it regular and enjoyable with one or two decent challenges in the year to keep me from getting slack.
Thanks to Vicki for the great pics (and her support)