Pangbourne
Jackpot! It's always a bit speculative to go somewhere for the first time and just plot a route using OS maps. In truth the UK countryside is generally brilliant but sometimes it just works out better than others. Pangbourne turned out to be just beautiful.
The choice to go to Pangbourne was pretty random. We started looking around Henley and Marlow but, having run and stayed there a few times, we figured we should try pastures greener. Following the Thames upstream a bit, with the idea of a Thames path / Chilterns based route, we landed on Pangbourne.
Next we found a quirky looking hotel (The Elephant) and that settled it. It was great to be making a weekend of the run this month and we checked in for Friday and Saturday nights.
Watching the weather ahead of the weekend things looked a bit iffy. Thankfully, Saturday morning broke clear, sunny  and warm with just a few fluffy clouds dotted around. We made a leisurely start at 07:42 with no pressure to do anything but go out and enjoy the morning.
The Run

After leaving Pangbourne we crossed over the Thames and headed in a North Westerly direction joining the Thames path towards Goring. The trail was excellent and took us on an undulating tree lined route  for a few miles before dropping down and flattening out to follow the river bank just before Goring.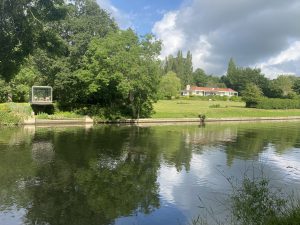 On several occasions our jaws dropped as spectacular riverside properties were revealed – this is where the other half live for sure! Apparently George Michael lived around here too.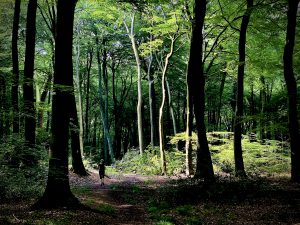 The remainder of the run continued to deliver variable and beautiful scenery. At one point we entered what I think was a Beech forest with majestically tall trunks and a high canopy. It felt very different from other woodland we'd been through. This was exactly what we'd set out to achieve with the '21 adventure.
We always have one eye on a coffee stop somewhere along the way. I speculatively routed us past a few spots which might have had something to offer – no dice, it was a bit rural for that. Fortunately there was a Costa Coffee in Pangbourne just as we finished 🙂
A final bonus was that Cally's knee gave her no trouble and there was no sign of blisters. She has been dogged by both ailments since January – it makes such a difference to run injury free.
July is still open and likely to be another last minute decision. Fingers crossed that the UK will perhaps be open again by then.