With the 50k looming we needed to get a long one in. In part for the miles and "time on feet" and in part to test the state of recovery of Cally's knee injury.
The route follows the Wandle trail to the Thames and then follows the Thames path on the South bank to London Bridge. We started at Sutton station to shave a few miles off of what is a 24mile course when run from home.
The 18miles would be test enough and form the longest distance yet run by Cally. It's been brilliant to see her progress! I'd run this route a few times but mostly in Autumn / Winter and the bare trees had made it feel a bit bleak. Now, however, with Spring in full swing the route was wrapped in a blanket of green masking much of the otherwise fairly urban setting.
Following the river Wandle means that the route is flat or gently downhill – perfect for not adding stress to Cally's knee. The trail is generally paved or hard-packed earth and skirts suburban back yards, industrial plots while cutting though several parks and riverside walks. It's a great feeling to be 'adventuring' in greater London while feeling like you are in an entirely different location.
It was raining as we set off but after a brief shower things dried up and we did not see any more rain. The day was overcast and cool which made for perfect running conditions.
The trail meets the Thames at Wandsworth fairly unceremoniously in an industrial estate. There is a false sense of nearing the finish at this point as there is still a good 7 miles or so before the finish. The route takes on a completely different at this point and were were enviously eyeing out the riverside apartments imagining ourselves with the "London pad". There are some beautiful developments along the way.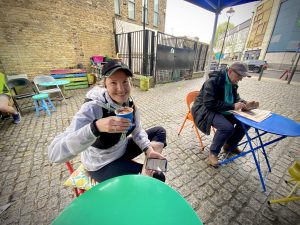 Just before hitting Thames path while navigating some road crossings in Wandsworth we passed a hole-in-the-wall coffee shop. A glance from Cally let me know that we would definitely be stopping here. Coffee breaks are a key feature in our runs and this turned out to be an excellent coffee at just the right moment, 10miles (16km) in.
Refreshed from the stop we tacked the final stretch. There were loads of runners and walkers out and it was good to once again feel part of the "real world". Particularly interesting was the Battersea Power Station re-development. This was much debated but is now in the process of transformation to apartments and shops and the iconic landmark promises to be an interesting destination when completed.
Reaching the Houses of Parliament is always a great moment. I just love the London landmarks. We were in for a surprise here as the entire wall to the right of the pathway was covered in hearts. I thought that this was some feat of graffiti and could not imagine how anyone could have got away with it in such a prominent location. We then noticed the messages of remembrance and further along saw the COVID memorial plaque. Suddenly we had a new perspective and it was quite moving. 
The final push took us past the London Eye, National Theatre and the pubs and restaurant at Soutbank all struggling to come back after lockdown.
The finish at Borough Market was a bit muted. It's normally a hive of activity on a Saturday morning and we often make a destination of it by train. This time there were quite a few people out the the market was much reduced. We managed to find a pub, changed into some dry gear and enjoyed a well earned pint.
The signs are good and it looks like Cally's knee should hold up in the 50k…