Back in January Cally picked up a knee injury after pushing herself to her first ever half marathon on the hilly, muddy North Dows Way run. This is an ITB injury which has dogged her ever since. ITB strains are a devil and typically manifest as pain on the outer knee and take months to fully heal. Especially if you don't give them enough rest and remedial treatment.
This seems to always be the way with getting into running as your body adapts to the mileage and terrain. For myself, I've had the full spectrum of running injuries from ITB to Plantar Fasciitis, achilles, calf to hip flexors and everything in between. It seems to be a bit of a rite of passage but thankfully I've found my running form and preferred shoes and have been injury free for over 2 years now. That's a great place to be given the mileage I've been doing but I really understand just how frustrating an injury can be. You just want to keep going but each step can be causing more damage.
So, for April, we decided to just take it easy and find a nice long walking route through the local countryside. The 12in12 was never more than finding an adventure outing each month so this was going to be just fine. We are so spoilt for choice here in Surrey but we landed on a circular route around the iconic Leith Hill skirting the adjacent Hurtwood.
We used the Friday Street National Trust carpark as our start/finish spot. Using the OS Maps app with ideas from the Alltrails app we plotted our route and set off at 07:20. Its one of the things I love about trail running – just plot a route and go. It has never been a let-down.
The morning was a crisp 4°C/40°F with a beautiful clear blue sky and the morning sun streaming through the not-yet-in-full-leaf forest. For most of the way we had the world to ourselves and it was just brilliant to meander through the landscape.
Besides one or two steepish sections the going was pretty easy and Cally's knee did not cause any major issues (downhills are the worst).

We topped Leith Hill at about 4 miles (6.5km) following a log gentle climb towards Cold Harbour and a short sharp up. Before we knew it we were there. It has a great mystique about it and we've enjoyed it at various times of the year. There are breathtaking views South over the downs and Northwards all the way to London.
The tower marks the tallest point in South East England at 1029ft (313m) and was built in 1765 by Richard Hull of Leith Hill Place as "a place for people to enjoy the glory of the English countryside". He nailed it.
One of our goals for the 12in12 is to find a coffee spot to finish at but this month we did not actively look for one in favour of finding a good route. So, it was a great surprise to stumble upon a farm barnyard converted to outdoor seating and a small trailer serving coffees at the 6mile (10km) mark. We had a sit-down and enjoyed a great coffee (we will be back to this one). While there we got chatting to a runner who turned out to be from Durban, small world! We traded a few running stories and we were soon back out for the final leg.

It's almost the height of Bluebell season in the UK and we were hoping the route might take in a few. We were not disappointed. It seems pretty random as to where the flowers are located but when they seem to be happy in their surroundings they put on a spectacular show. It's another feature of Surrey which makes the annual turning of the seasons a joy to live through.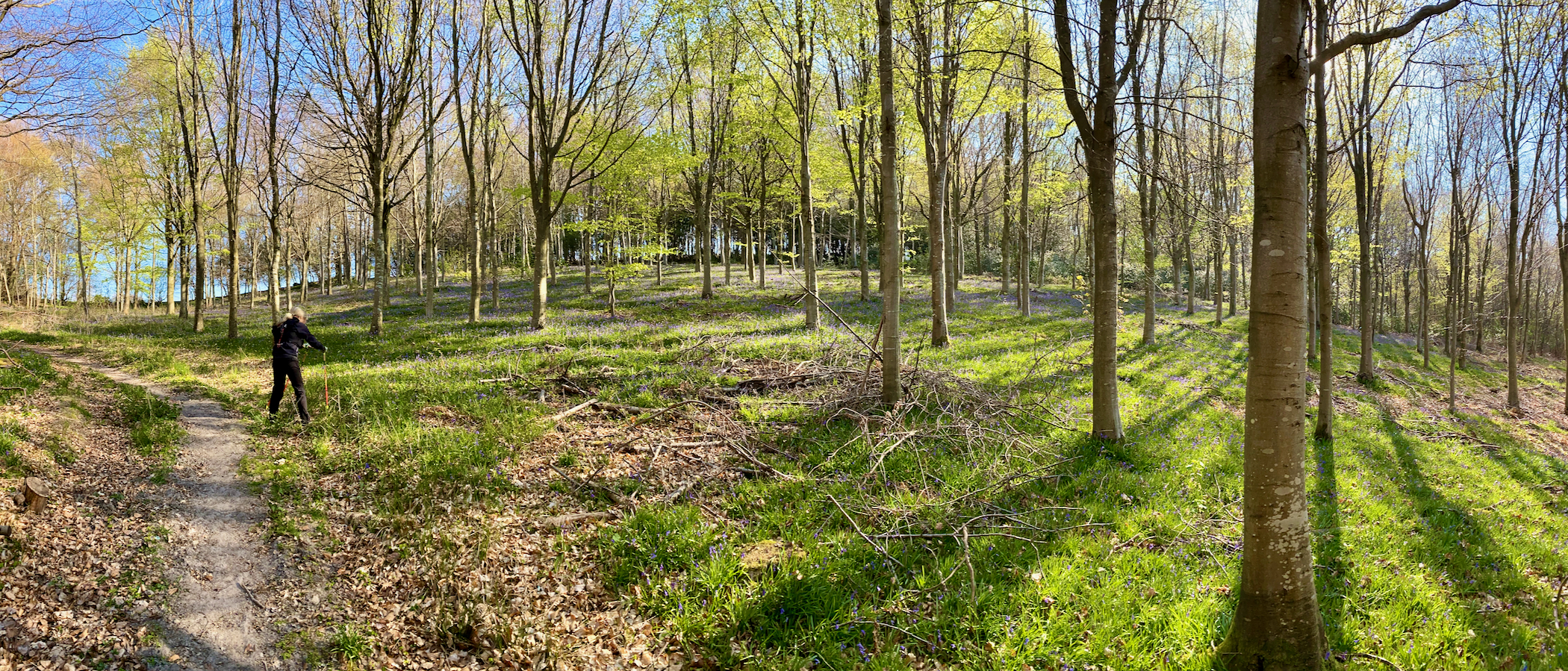 The latter stages of the walk went smoothly and we cut across the top of the East side of Hurtwood which was flat, open and basking in the mid-morning sun. By this time there were quite a few mountain bikers, horse riders, runners and walkers out enjoying the day.
I honestly can't think of a better way to spend a Saturday morning than the 2 hours and 44 minutes it took us to take in this route. It's also great to be sharing this with Cally as opposed to just seeing her at aid stations or crew points along one of my solo outings. It is pretty much the whole point of the adventure and one third of the way into the year it seems to be delivering on the promise.
Next month is an altogether different prospect as we have entered an organised run/walk for the second half of the 100km (60mi) London to Brighton. The next priority is to get Cally's knee in shape for her first Ultra. Woohoo! Can't wait.