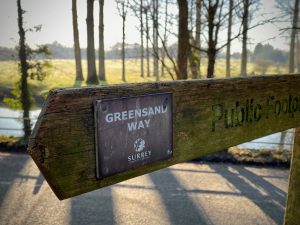 With a strong lockdown still in effect our second outing had to be local. We have a great routine running from Reigate Hill with it's excellent coffee hut so there was no need to look elsewhere for our February base.
What we did want to do was mix it up a bit so we plotted a new route along a section of the Greensand Way (Surrey section). This proved to be just brilliant! Recent weather had been a bit "all over the place" ranging from freezing to snow to wet and even sunny and warm. We hoped for the best but had no way of knowing what we would face on the day.
As it turned out we had champagne weather – crisp but beautifully clear and sunny. This pared beautifully with the route which was firm underfoot and took in some fantastic new farmlands between Reigate and Betchworth before returning via our old friend the North Downs Way.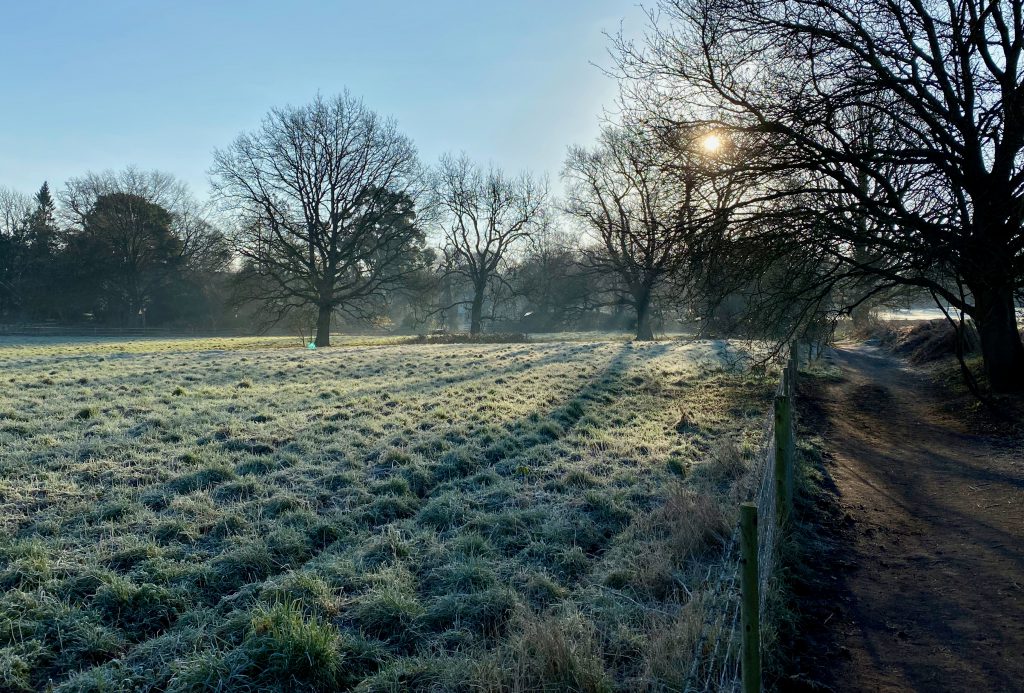 We set off at 07:26 which by now was post sunrise. The first part of the route took us downhill towards the plain below Reigate Hill and was a great warmup. By mile 3 wewere into new territory which was just great – stunning countryside, the sun at our backs and a very strong Spring vibe. Snowdrops and even Daffodils were out in abundance, dew drenched lush pastures to our left and right with birds serenading us along our way. It was one of those runs where you forget about the running and just soak it up. Impossible to not just be in the moment.
The tricky bits came at the end with two challenging uphills forming a sting in the tail. Cally's knee has continued to dog her and had started to 'talk' around mile 7 so I was impressed when, at mile 9, having offered her "the short way or the long way" back she simply replied "got to be the long way" – good girl, she's got some guts.
By the time we were heading along Reigate Hill it was after 10:00 and droves of walkers were out and about enjoying the sunshine. We are normally in-and-out before the crowds so it was a bit weird to see so many people plus we had to queue for coffee!! Oh the ignominy of it all!!
We were a bit short of a half marathon but that did not matter. The distance has never been our aim and by the end Cally's knee was doing more than just 'talking'. In terms of time, Cally 'shaved' nearly an hour off of last month – wow! Great going. It just felt like a joyful run (knee pain notwithstanding)
The annual adventure is off to a great start. With the lifting of lockdown over the coming months we can't wait to explore further afield.
The Last Word – by Cally
Waking up this morning I felt ready for my next 21km trek… I did not overthink it and decided to just go with the flow. The morning was just beautiful, blue sky, no breeze and full sunshine. The 1st part of the route was simply stunning and I felt good up to 7miles… just before the two big hills. My knee started giving me issues up the first hill but managed to grimace my way up both big hills to the 9 mile mark… from there I had a choice of doing a shorter distance or powering on to do the 13 mile route… of course I chose the 13 mile distance but my body was beginning to hurt… thanks to Paul and his support I kept going and eventually hobbled to the the finish at junction 8… a beautiful day to be amongst the amazing surroundings of the Surrey landscape…